Peter Haas
From Birocapedia
Jump to navigation
Jump to search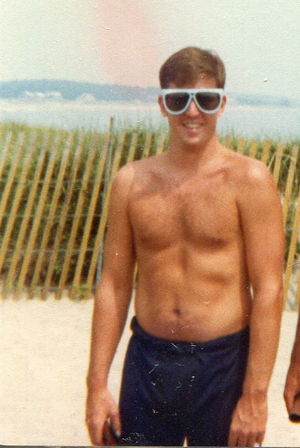 1st Lt. Peter B. Haas (USMC) was a longtime camper and counselor who was noted for his energy and love of Birch Rock, his family, and his country. Much of the ethos and many of the traditions that pervade camp today can be traced back to him.
Pete was a fixture on the waterfront, serving as Waterfront Director for several years. He was well-known for his high-energy calisthenics and his ability to get each camper, regardless of their swimming ability, to believe in themselves and give their all. He is also credited with bringing Beach Day and the Strut Contest to Birch Rock, and coming up with the Super Camper and Shower Barons.
After graduating from Thiel College in Pennsylvania, Pete enlisted in the United State Marine Corps. While on active duty and training to be a helicopter pilot, Pete couldn't attend the full 8-week Birch Rock season. However, he would take every opportunity, including all of his available vacation, to pay long visits. His triumphant arrivals were the highlights of the summer.
While visiting, Pete made sure to give every camper a tee shirt. It was a good way for him to spend at least a little time with each boy. Pete brought the esprit de corps of the Marines to Birch Rock with him each summer and could often be heard leading calisthenics at the waterfront, "1-2-3-4, United States Marine Corps!"
Tragically, Pete died when the Marine helicopter he was piloting crashed into mountains during routine maneuvers in South Korea in 1982. His spirit is immortalized at camp, not only by the construction of Pete's Palace, but in the people who knew him.