Woodshop
From Birocapedia
Jump to navigation
Jump to search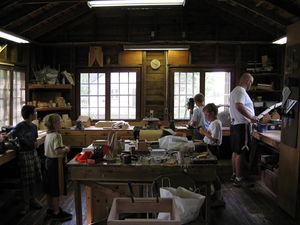 Woodshop is one of the oldest activities at Birch Rock. The location of the activity has changed over time, as has the focus of the projects the boys work on. Before the lodge was rebuilt in 1995, woodshop was run from the lower shop. The lower shop was below the lodge, with the entrance facing the library. It was a cramped space, with little headroom and open walls. Woodshop, as an activity, was not run for a few years in the late 1990s and in the early 2000s. When the program was run during those years, it was moved to the Uncle George Howe Museum, now just called the Woodshop.
The current woodshop is a well-equipped and stocked building with appropriate safety equipment and tools sized for our campers. Campers are restricted to tools appropriate for their size and ability, with only the oldest and most advanced campers using the larger power tools.
Aside from the full inventory of handtools, the building is equipped with a shopsmith (lathe and bandsaw), compound mitre box, table saw, drill press, vacuum system, sanding table, grinding wheel, scroll saw, and thickness planer.
In the late 2000s, Charlie McDonald of the maintenance crew began milling some of the lumber used at camp from trees felled around camp. The plaques for 2009 as well as a number of camper projects are to be made from this lumber.
Pictures from 2008