Bob Van Dyk
From Birocapedia
Jump to navigation
Jump to search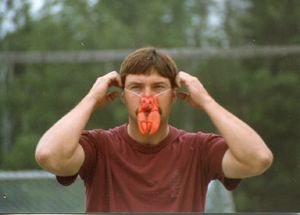 Bob Van Dyk was a whirlwind of pure joy and fun in the late '80s to early '90s. He arrived from California to be a Trip Leader in the summer of 1986. Almost immediately Bob had an effect on others all around campus. During his Head Counselor and Director years, Bob was constant humor and jokes. Bob created many fond memories for those at camp during those summers.
Life Before Birch Rock
Bob Van Dyk was hired by then Director Toby Brewster. Bob was a California boy who Toby interviewed on the telephone and liked what he heard. Toby could tell right away this guy had the right personality. We needed a Trip Leader, so Bob was in.
Staff Years
Summer of 1986
From day one Bob was off and running with the jokes and pranks. He called Birch Rock to let them know he had arrived at the airport and needed to be picked up. He told Toby he'd be the guy with the large blue mohawk. Since Toby hadn't seen Bob yet, the visual picture had Toby's heart skip a beat. Bob was extremely social and fun so he settled in and made friends with everyone quickly.
Summers of 1987-1989
In his second summer at Birch Rock, Bob became the Head Counselor under Toby. One fond memory of Bob happened at the flagpole everyday as Bob would fake clipping off his thumb with his clipboard clip. It happened almost everyday and was always funny.
One of Bob's biggest and most memorable moments was The Eclipse prank. Bob is credited with one of the best camp pranks of all time, and the way he delivered the announcements with the newspaper in hand was epic. Bob was like having a guy from "Who's Line Is It Anyways?" constantly imitating and joking, poking and smiling. He was the ultimate cure for homesickness for many campers those summers.
Director's Years
Summers of 1991-1992
These were the Sideshow summers. As Bob took the reigns from Toby and gained full command of a staff full of improv artists. It was improv crazyiness and humor all summer long. Bob's staff absolutely loved hanging out with him and they would do whatever he asked happily.
Bob was the first staff member to rig up the waterslide down the flagpole hillside. He set up a few tarps heading down the hill and set up a bunch of mattresses to stop the momentum of the person sliding off into the bushes (And there were serious bushes back then). Bob used the classic tarps, dishsoap and garden hose system.
Bob would often ask for more variety and spice from the staff during the Sunday staff meetings. In fact, one meeting he asked each staff member to take a day of the week (we had seven staff then, including Bob) and to do something crazy that day. Bob's was by far the most memorable. He had a counselor ring the morning bells and when the campers arrived at the flagpole, Bob had a walkie talkie on the ground with a clipboard in front of it. Bob was off to the left way up in a large pine tree watching in hiding. He went through the entire flag raising process by walkie talkie, telling people to get back in line and such. It was great!
In 1992, Bob returned to Birch Rock with his wife Rhonda. Rhonda worked as the Head Cook that summer. They lived in the Infirmary and really ran Birch Rock together.
Bob's Summers at the Rock
| Year | Cabin | Role | Note |
| --- | --- | --- | --- |
| 1986 | Swordfish | Trip Leader | other Trip Leader Scott MacGregor |
| 1987 | Director's Cabin | Head Counselor | Program |
| 1988 | Director's Cabin | Head Counselor | |
| 1989 | Director's Cabin | Head Counselor | |
| 1990 | skipped | | |
| 1991 | Director's Cabin | Assistant Director | worked with Toby Brewster |
| 1992 | Infirmary (Health Lodge) | Camp Director | with wife Head Cook Rhonda Van Dyk |