Don Munn
From Birocapedia
Jump to navigation
Jump to search
Don Munn has been a figure at Birch Rock since 1981. Don Munn was a local dairy farmer and owner of Springer's Store in the early '80s with his love Janice Walker. It was sometime in the early eighties that Don started doing maintenance around camp. In his own words, Don didn't find the Rock, "They found me." During the lean years in the late '80s through mid-'90s, it was Donald who did his best to save money where he could and keep the place in good enough shape to function safely. Thanks to his local connections, money saving practices, and willingness to loan the camp his tools and sometimes even his land for storage, Don was certainly one of the main reasons Birch Rock was able to stay open. Birch Rock will be forever grateful.
Once Don was established he became an icon of Birch Rock, so iconic that the staff have even had t-shirts made with Don's picture on them. One such T-shirt was a white shirt with a picture of Don on the front and 'Attitude is Everything' written underneath. Many look forward to seeing Don and Janice when they return to camp to quicken that feeling of being back on campus. From May through Opening Day every summer for the last almost 30 years, Donald has been all out getting the campus ready for Opening Day. As the staff arrives in June, Don's there passing out brushes, weed-whackers and gloves and sending them to work.
The 1980s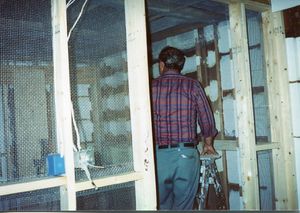 Although Don remembers Chief Brewster as a "big tall guy, talked very stern, I used to sell him vegetables," his relationship with BR began in the 80s through his ownership of Springer's Store down the road. Soon Don was doing maintenance over at camp and many of the staff were retreating to Don and Janice's place at night and on their free time to relax and just get off campus for a while. Don settled more into day to day life at the Rock and by 1986 Janice was on campus as the Head Cook. With Janice now on campus, they were around everyday and all day helping run camp.
In the late '80s Don worked magic with very little and was able to keep the grounds functioning and safe. Don remembers these times fondly though, citing the winter of '88 with Toby Brewster as on of his favorite times at the Rock. He tells that campus was different back then, with no lawns, so many trees you couldn't see the lake from the lodge, no paved roads, and a smaller lodge.
The 1990s
By the '90s, Donald was called for every circumstance whether it be maintenance related or not. Don and Janice's knowledge of the area and people became more and more valuable with every year and they were huge promoters of the camp everywhere they went. By the '90s, Birch Rock had become as much a family to them as their own family. Donald was present for everything!
In the early '90s, Don and Janice created Munn Day as a way to give the boys something fun that would not be too costly for a camp with little money. Donald would organize frying pan throws, building haybail mazes, tractor driving(for the older boys), badminton, etc. Janice would serve up an amazing summer meal with corn on the cob, chicken, salad, etc.
In 1994, the Board of Directors decided to keep BRC open by boldly announcing a project to reconstruct and save the lodge. Donald was on the scene for much of that project and many other projects for the rest of the decade as Birch Rock began to recover and grow.
By the mid-late 90s, Janice moved into a grounds and landscaping role and has worked closely with Don ever since.
The 2000s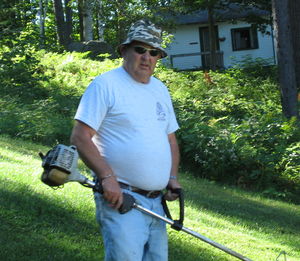 Donald was heavily involved in helping with the construction of Owl's Perch and led the charge on the Boat House project. By the end of the Boat House project, Donald brought in Charlie McDonald to begin helping around camp and since Don and Charlie have been working as a team.
To this day, Don and Janice help drive out canoes and return vehicles for almost every trip. Donald is on the campus in May to make sure we are ready to open by the end of June, and we will all be forever grateful! Thanks, Don!
Don & Janice Walker were recognized together with a plaque on the lodge wall for their many summers of service to Birch Rock.