Onie Brewster
From Birocapedia
Jump to navigation
Jump to search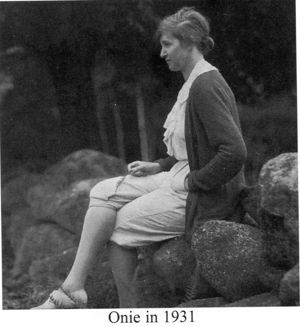 Leona "Onie" (Wright) Brewster (1895-1982) was the wife to William "Chief" Brewster and one of Birch Rock's original founders. Onie spent much of her time at Birch Rock as the camp's librarian and tutor. Onie was at Chief's side at the Rock every summer until his death in 1973. Onie continued to come to the Rock for another decade after Chief's death.
Years Before Birch Rock
Onie was born and raised in Weybridge, Vermont. Her mother died when she was young, and her father went West to seek work. Onie and her sister were raised by a great aunt, whose affection and care created a relationship nearly as close as mother and daughter. She grew up during the period of 1900 to 1920, a time when education was seen as immensely valuable to personal and intellectual growth, and more importantly was the key to moving from the drudgery of traditional occupations like farming to the lifestyle of the new professional, urbanized middle class. Onie was a teacher before she married Chief in 1919, but had not attended college.
Staff Years
In 1933, she entered Boston University, where she studied eduction, specializing in the teaching of reading. Later she took advanced courses at Columbia, using her knowledge to help the students she tutored with such dedication at Birch Rock.
Both Bill and Onie brought immense personal force to their commitment, reaching out to young people with support and encouragement that was not to be denied. Their Birch Rock motto "Help the Other Fellow" was as much the way they lived, and a basic principle that they regarded as a key to a worthwhile life, as it was a motto to guide Birch Rock campers. They created in Birch Rock a remarkable institution, where their legacy continues to guide, motivate and inspire campers, former campers and friends decades after both have gone from us.