Head Counselor
From Birocapedia
Jump to navigation
Jump to search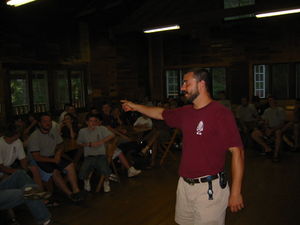 The Head Counselor is a special counselor who runs many of the day to day activities at camp. Some of the Head Counselor's jobs include doing inspection, leading announcements, and running flagpole.
List of Head Counselors
The second name on the list below is the Program Director. During those specific summers the Head Counselors position was divided amongst two individuals.
1936: Charles Downs
1973: Dave Weeks
1974: Dave Weeks
1975: Dave Weeks
1976: Dave Weeks
1977: Dave Weeks
1978: Dave Weeks
1979: Ben Brewster
1980: Jim Tsouvalos
1981: Toby Brewster
1982: Toby Brewster
1983: Toby Brewster
1984: Toby Brewster
1985: Rich Deering
1986: Joe Curry & Seth Wheeler
1987: Bob Van Dyk
1988: Bob Van Dyk
1989: Bob Van Dyk
1990: Ron Mattson
1991: Ron Mattson
1992: Ron Mattson
1993: Josh Church
1994: Josh Church & Mike Mattson
1995: Mike Mattson
1996: Mike Mattson
1997: Mike Mattson
1998: Mike Mattson
1999: Thomas Joyce & Mike Mattson
2000: Thomas Joyce
2001: Thomas Joyce
2002: Thomas Joyce
2003: CJ Nesher
2004: Doug Miller
2005: Doug Miller
2006: Doug Miller
2007: Mark "The Weaz" Sutherland & Doug Miller
2008: Mark Sutherland
2009: Mike "Nordy" Nordblom & Mark Sutherland
2010: Ryan Massey & Mike Davis
2011: Ryan Massey
2012: Ryan Massey
2013: Ryan Massey
2014: Zach Lynn
2015: Bob Donahue
2016: Bob Donahue
2017: Bob Donahue
2018: Nick Musciano
2019: Nick Musciano
2020: Nick Musciano
Gallery