Saddleback Mountain
From Birocapedia
Jump to navigation
Jump to search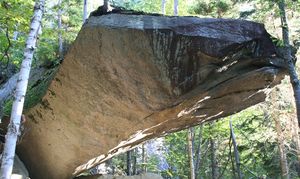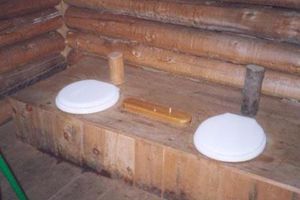 Saddleback Mountain is a mountain located in Franklin County, Maine. The mountain and its surrounding areas are the target of a Birch Rock hiking trip usually every summer.
Geography
Saddleback is part of the Rangeley-Stratton mountain range which also includes Mount Bigelow and Sugarloaf Mountain. There are two main peaks to Saddleback, Saddleback itself and a sub peak, The Horn. A ridge dips between the two peaks, giving the mountain the profile of a saddle when viewed from afar. Saddleback's peak elevation is 4140 feet and The Horn is 4041 feet. The Appalachian Trail runs over the summit and along the ridge. Nearby mountains also traversed by the AT include Saddleback Jr., Spaulding Mountain (peak via a blue blaze sidetrail), and Sugarloaf. Rangeley Lakes are just northwest of Saddleback.
The Trip
The hike up Saddleback is usually done by the boys in Buzzard's Roost or Eagle's Nest. The first campsite 1.4 miles from the trail head features the landmark Piazza Rock, a huge cantilevered boulder sticking out from the mountainside, as well as a unique double privy with a cribbage board.
Near the start of the trail up Saddleback there is the trail head of an old obsolete trail. In 2006 the Buzzards Roost trip to Saddleback took this trail instead of the real trail. Ld by the fearless Paul Koepke, the boys ended up going deep into the dark woods before the heretofore faint trail abruptly ended. At that point they made camp in a mosquito infested hollow. The next day they hiked out and Paul made it up to everyone with ice cream.
Pictures from the 2009 trip to Saddleback
External Links